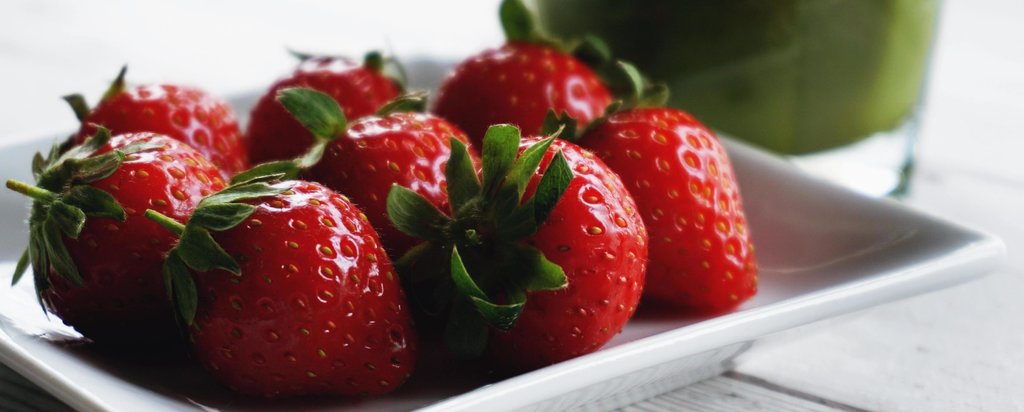 This bright red colored fruit strawberry is well known for its tangy-sweet taste and juicy texture. It is a hybrid species of genus Fragaria, that is widely grown all over the world due to its delicious fruit. Besides its tempting nature, strawberries are highly loaded with vitamins (esp. vitamin C) and minerals. It also contains a lot of antioxidants and polyphenols. There are a lot of strawberry benefits for skin. Due to which use of strawberries is popular in many skincare products. Nowadays, these strawberry skincare products are getting popular due to their fragrance and numerous benefits.
Strawberry Benefits For Skin
Due to abundant strawberry benefits for skin. It can be used in our skincare regime and proved beneficial. The following characteristics of strawberry for our skin are
Good Cleanser
Toner
Reduces Wrinkle Formation
Improves Skin Complexion
Good Exfoliator
UV Protector
Fights Acne Problem
Teeth Whitener
Controls Excessive Oil On The skin
Diminishes Dark Circles And Under-Eye Puffiness
Used For Lightening Dark Lips
1. Good Cleanser
Strawberries are a rich source of vitamin C, which helps in cleansing skin. They contain alpha-hydroxy acid and salicylic acid, which helps in removing all the debris and dead cells from the skin, thereby cleanse it and makes our skin look fresher and healthier.
2. Toner
Strawberries contain ellagic acid which helps in the reduction of pesky dark spots on the skin and thus helps in making even skin tone.
3. Reduces Wrinkle Formation
Regular use of strawberries in skincare products are staving off all the aging signs, due to the presence of alpha-hydroxy acids in it.
Studies suggest the use of AHAs cause a significant reversal of epidermal and dermal markers of photo aging.
They contain anti-oxidant ellagic acid that prevents collagen destruction, thus reduces wrinkle formation. Being rich in vitamin C content, strawberries boost up collagen production and minimizes wrinkles and fine lines, etc.
Research shows the relationship between the consumption of polyphenol-rich foods and the slowdown of the aging process. It shows the effects of strawberry consumption on biomarkers of oxidative damage and ongoing aging reduction in mitochondrial function and biogenesis for 8 weeks in old rats.
Lycopene in strawberries slows down aging signs. Strawberries also contain anthocyanin which protects skin cells from oxidative damage, making skin soft and supple.
A study suggests that the strawberry possesses antioxidant properties that are consequently, useful for the prevention of free radical-induced skin damage.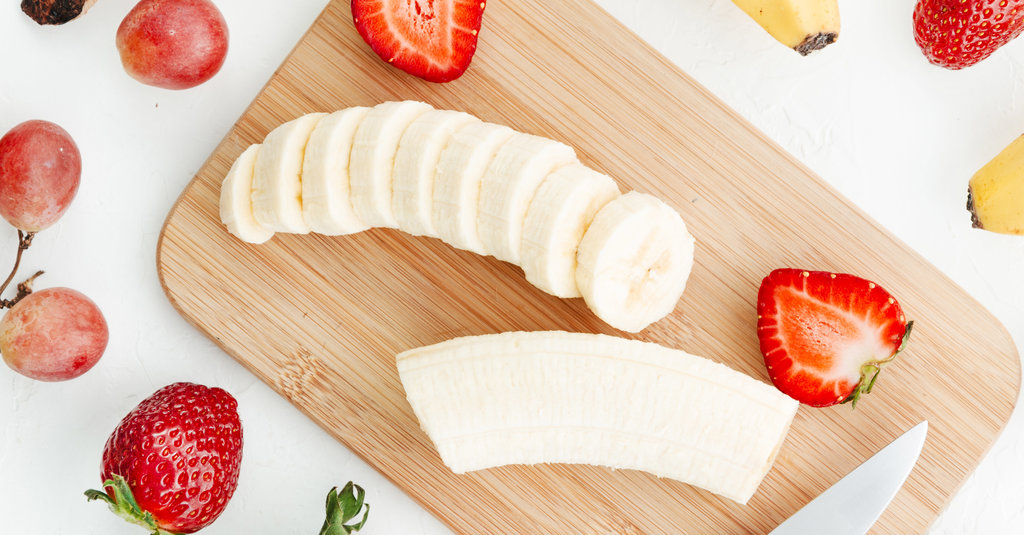 Recipe Box
Try out this anti-aging strawberry face mask for a few weeks and you will notice a big change. For this, take one big sized strawberry and 1/4th banana and mashed them separately. Now in a clean bowl, add two tablespoons of strawberry puree and one tablespoon mashed banana, one teaspoon vitamin E oil, and 3-4 drops rosehip oil. Mix all of them together until it forms a smooth consistency. Apply this mixture on your face for 15-20 minutes and then wash off with lukewarm water and then rinse with cold water.
4. Improves Skin Complexion
One of the strawberry benefits for skin includes its skin lightening and brightening effect.
Strawberries contain a lot of antioxidants that help in improving our skin complexion. They actually fight with the free radicals, thus protects our skin cells from any damage.
An abundant amount of vitamin C is present in strawberries, due to which strawberries have skin lightening ability.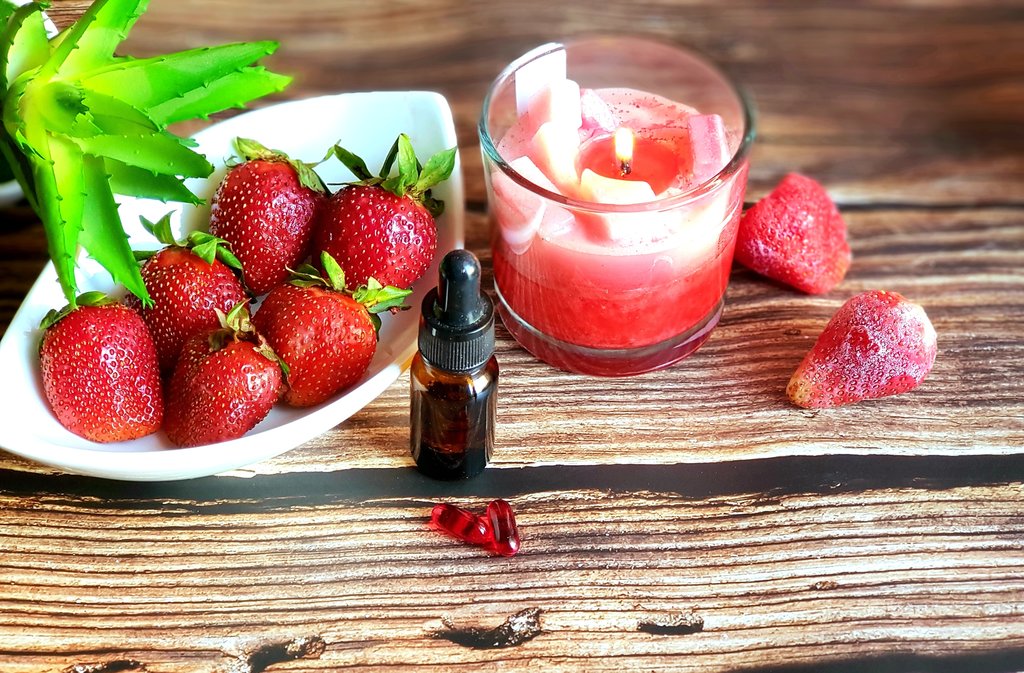 Recipe Box
In order to prepare a homemade strawberry face mask for skin lightening effect, mix two tablespoons strawberry puree, one teaspoon fresh aloe vera gel, and half a teaspoon of vitamin E oil in a mixing bowl. Then, apply this mixture on our clean face and neck for 15 minutes. Wash it with lukewarm water and then rinse it with cool water.
5. Good Exfoliator
The gritty texture of strawberries is good for scrubbing all the dead skin cells, dust, and debris from the skin.
Salicylic acid is present in strawberries, that is responsible for removing all the flaky skin and thus gives you a refreshing look after exfoliation. Due to this peeling agent, salicylic acid not only exfoliates our skin but also treats patients with acne.
6. UV Protector
Strawberries offer the best protection from the harmful ultra-violet rays of the sun as they contain antioxidants like ellagic acid, vitamin C, etc. that are very useful for protecting our skin from UV damage. These antioxidants form a protective layer around us, whenever sun rays interact with us. In this way, they protect us from the free radical damage caused due to harmful UV rays.
As a UV protector, strawberry benefits for skin are proven in many scientific types of research. That is why some commercial sunscreens also include it in their ingredients list.
Research suggests the use of strawberry based formulations for the prevention of ultra-violet A (UVA) exposure induced skin diseases and as a substitute for commercial chemical-based sunscreen agents.
7. Fights Acne Problem
Acne is mainly a problem of oily skin people which can be easily cleared with strawberry. Strawberry is quite useful in treating acne because of its acidic nature. The presence of vitamin C, salicylic acid, alpha-hydroxy acid, and flavonoids in strawberries fight with the acne and make our skin soft and healthy.
The presence of vitamin C, salicylic acid, alpha-hydroxy acid like citric acid in strawberries fight with the acne and make our skin soft and healthy.
8. Teeth Whitener
Strawberry has astringent properties due to the presence of malic acid, which removes all the discoloration on the teeth surface. It is a natural teeth whitener which whitens our teeth.
Although, strawberry benefits for skin include teeth whitening too. But don't use strawberries more than once a week for teeth whitening due to their acidic nature. As it will be harmful to tooth enamel if used too much.
9. Controls Excessive Oil On The Skin
Strawberry is an excellent fruit whose face packs are used to absorb excess sebum and oil on the skin. The rich content of vitamin C and its acidic nature works effectively for sebum or oil control. In this way, strawberries control excessive oil on our skin and revitalize it.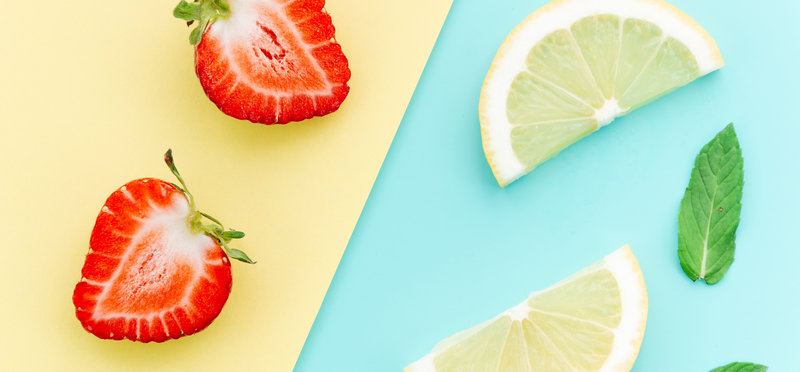 Recipe Box
For this, make a DIY strawberry and lemon face mask by adding half teaspoon freshly squeezed lemon juice in 3 tablespoons strawberry puree. Mix it well and apply this mixture on your clean face and neck for 15 minutes. Wash it with normal tap water. Remember, always use this face mask at night time as lemon increases photosensitivity.
10. Diminishes Dark Circles And Under-Eye Puffiness
Strawberries have an astringent effect on our skin. Because of this, it can effectively diminish under-eye puffiness and dark circles under the eye.
11. Used For Lightening dark lips
If you want rosy pink kissable lips, then you must apply strawberry products on your lips. As strawberry lightens up dark lips due to many reasons like smoking etc.
It actually contains ellagic acid, which helps in lightening dark spots, and thus you get rosy pink lips.
Strawberry lips scrubber and lip balms are very common in the market these days. This is due to the presence of some of the vital minerals and vitamins in strawberries, which helps in exfoliating dead cells over lips and making them soft and hydrated.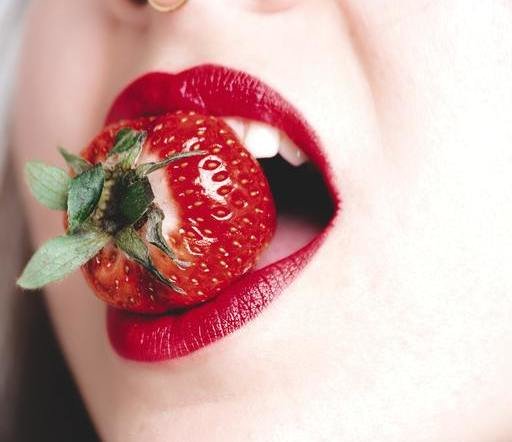 Recipe Box
To prepare a DIY strawberry lip scrub at your home, take one medium-sized strawberry and mashed it well. Bring a clean container and add two tablespoons of strawberry puree, two tablespoons ground brown sugar, one teaspoon fresh lemon juice, one teaspoon raw honey, one teaspoon sweet almond oil in it. Mix all the ingredients well and apply this lip scrub on your lips. Massage this lip scrub on your lips for 2-3 mins to get rosy pink lips.
Suggested Products
Now, whenever you go to the market, buy some strawberries for yourself. Because this fruit not only appealed your taste buds but also to your skin.
If this post is significant for you, then don't forget to comment in the comments section below.
Subscribe
&

Receive A Free eBook
Responsive innovate grok latte disrupt intuitive actionable insight SpaceTeam grok. Human-centered design Steve Jobs.
We do not spam. You can unsubscribe anytime.