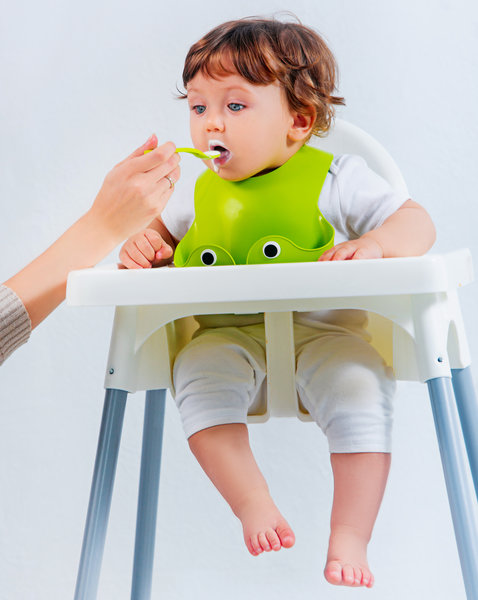 Every mom wants to become a supermom and when it comes to your baby's first food, no matter how you cook or how it tastes. You always go for experimenting with different nutritious first foods for your babies. And most of the time these little ones don't doubt your MasterChef's abilities and enjoy their yummy first food experiences.
Making Homemade Baby First Food Is A Fun Activity
Making homemade baby food for your tot is a fun activity. As, while making these baby foods, you have different options and choices on hand. Also, you can use any fruit or vegetable of your own choice. Mix these fruits and vegetables, whatever flavor you want to make, and let your baby enjoy different flavors of fruit and vegetable purees.
A review also shows the importance of introducing solids to your infants. As it leads to the development of an individual.
Colored Purees
To make it more appealing for the babies. You can introduce different colored purees like red-colored strawberry puree and yellow-colored mango puree etc.
Additional Flavors In First Food
When you feel that your baby is getting bored with the same flavor, then you can also introduce some seasoning to make it salty and sweet, etc. This adds an additional flavor that most of the babies prefer as compared to their regular foods.
Why Moms Prefer Homemade Baby Foods?
Commercial baby foods are expensive and also less healthy as compared to homemade baby foods.
Processed Package Baby Foods
Unlike ready-made baby foods, homemade baby first foods are more nutritious and delicious because they are not processed.
Research also shows that the packaged baby and toddler foods contain more levels of sugar and sodium than recommended. So, they are not 'healthy foods' by definition.
Although processing baby foods increase the shelf-life of the food but at the same time, it loses most of its vitamins, nutrients, and flavor. That none of us wants.
Stages Of Feeding Baby Foods By Age
Generally, baby foods can be divided according to their age. These are not the standard stages, but generally explained in the following manner.
Stage 1: Baby Food For 4 To 6 Months Old Baby
Stage 2: Baby Food For 7 To 9 Months Old Baby
Stage 3: Baby Food For 9 To 12 Months Old Baby
Stage 1:

Baby Food For 4 To 6 Months Old Baby
Runny Fruit And Vegetable Purees
Babies who are 4 to 6 months old, can enjoy thinly purees of fruits and vegetables. At this stage, you can first introduce them with a single ingredient. Four days apart, introduce them with a new ingredient.
Identify Allergic Reactions
The main purpose is to identify their response to different ingredients and also to note their allergic reactions.
No Seasoning
Don't add sugar, salt, or any seasoning at this stage. Because it is good that baby like his/her food without any additional flavors.
Banana Puree
Recipe Box
Since babies prefer to eat sweet bananas. So, take ripe bananas for your baby food, that can be easily mashed.
Bananas are the best baby's first food for weaning. They are full of energy. Rich in potassium, vitamin C, B2, B6, fiber, and essential nutrients. They give a smooth, squishy texture to purees.
But don't give an overdose of bananas as they cause constipation.
Ingredients
1 small sized ripe banana
Water, formula milk or breast milk as required
Method
Peel off the banana. Take a clean bowl and mash the banana with the help of a fork. Make this puree runny and smooth by adding some water, formula milk, or breast milk as needed.
Zucchini Puree
Recipe Box
Probably, your baby doesn't like the mild flavor of zucchini. But it is a healthy choice for baby food. As it contains beta-carotene, potassium, vitamin C, and folate. Also, it doesn't cause constipation and is not a common allergen.
Ingredients
1 small size zucchini

Water, formula milk or breast milk as needed
Method
Peel off the zucchini if needed otherwise don't peel it. Simply cut it into small pieces. In a saucepan, transfer the zucchini pieces and cook them well. Now, transfer the cooked zucchini to the food processor and blend it well.
You can add some formula milk or breast milk to make this puree runnier.
Stage 2:

Baby Food For 7 To 9 Months Old Baby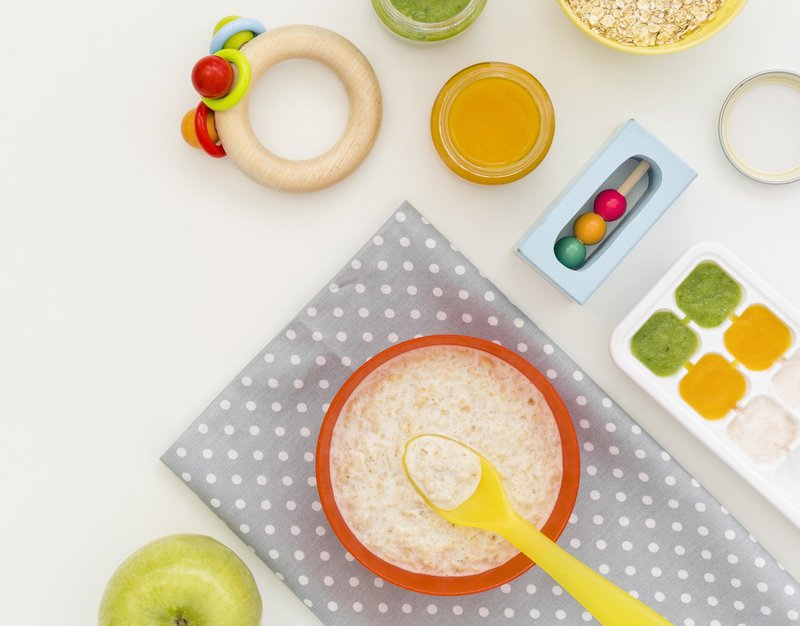 Thick purees
At this stage, you can add less water, formula milk, or breastmilk to their purees. Make their purees thick and now you can introduce them multiple ingredients in fruit and vegetable purees.
Each time introduce a new ingredient in the puree, to confirm any food allergy.
Add Seasoning
For the change in flavor, you can add some seasoning like salt and sugar, etc. Remember not to add extra spices in the baby food.
Baby-Led Weaning
With weaning, you can also let them practice baby-led weaning. For this, chopped fruits and vegetables should be given to babies. If your pediatrician allows you, then give them proteins like meat as well.
Oats And Milk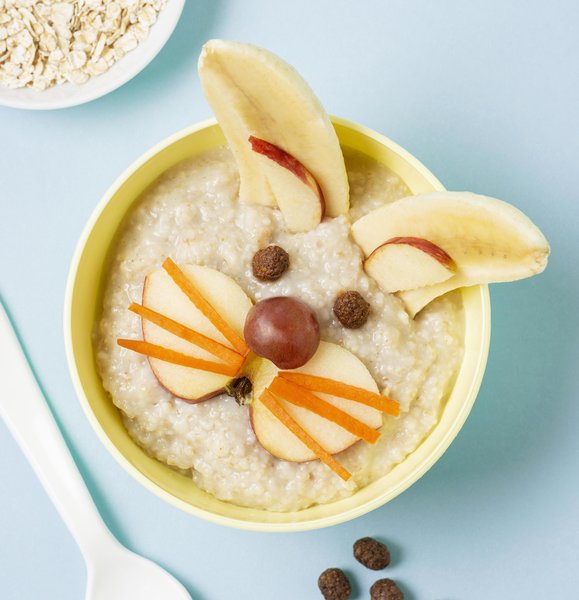 Recipe Box
Oats are a healthy and yummy option for babies. Homemade oat cereals are rich in calcium, iron, magnesium, vitamin B, folate, niacin, riboflavin, proteins, fiber, and pantothenic acid.
Babies like oats flavor with milk even without adding extra sweetness. But if you want, then add some honey and mix it well.
Ingredients
1/4th cup oats
½ teaspoon raw honey (optional)
Cow's milk as required
Method
In a saucepan, add cow's milk and warm it for a while. Then, add oats in the milk and boil it for a few minutes. Cook it until it forms a smooth thick mixture.
If you want to add some sweetness, then add raw honey in it. Mix it well and serve it lukewarm.
Pumpkin And Chicken puree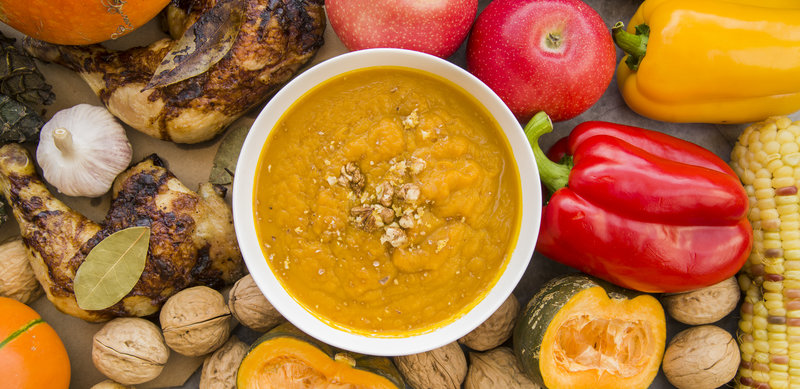 Recipe Box
This pumpkin and chicken puree is full of protein. Pumpkin is healthy food for babies. It is full of beta-carotene, protein, potassium, copper, iron, vitamin A, C, E, and fiber, etc.
While chicken is enriched with proteins, fats, sodium, iron, potassium, magnesium, and vitamin B complex, etc.
Ingredients
100g pumpkin
100g boneless chicken pieces
1 pinch salt
Method
Roast pumpkin and chicken pieces in the oven. When they are done, then peel off the pumpkin and remove all the seeds. Now, transfer both of them in the food processor and blend it properly.
When it forms a smooth mixture, then pour this puree to the serving bowl. If you want to add seasoning, then add some salt in it. This adds a salty flavor to your puree.
Stage 3:

Baby Food For 9 To 12 Months Old Baby
Chunky Purees
When your baby is 9 to 12 months old, then you can feed them with chunky purees and mashes. Also, let them eat small-bite sized foods.
Progress Towards Adult Foods
Here, some babies progress towards adult foods and eat light spicy foods as well. They can also be feed while you eat the same food.
Practice Baby-Led Weaning Approach
Studies also show that baby-led weaning can be an alternative complementary feeding approach. This type of feeding doesn't increase the risk of iron deficiency, choking, or growth impairment.
Mashed Potatoes And Butter Puree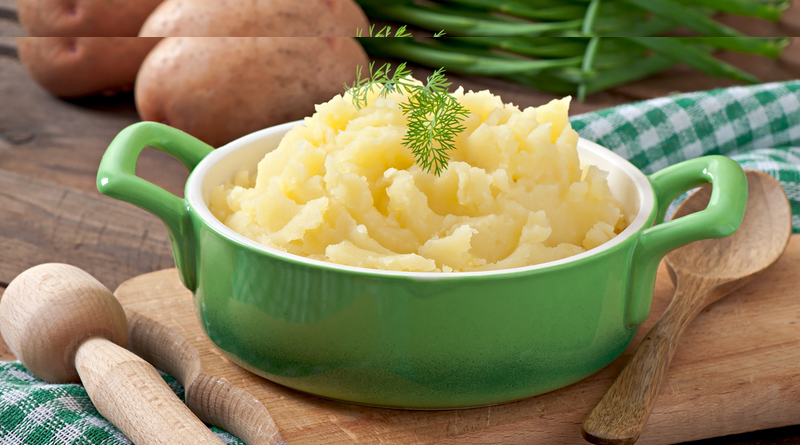 Recipe Box
Babies like this delicious and healthy potatoes and butter puree. It also helps in weight gaining. Potatoes are filled with vitamins like vitamin C, B6, niacin, pantothenic acid, proteins, minerals like sodium, calcium, iron, and phosphorous, etc.
While butter is a great source of fat-soluble vitamins like vitamins A, D, E, and K, trace minerals, calcium, and glycosphingolipids. It also improves digestion in babies and helps in the development of the brain.
Ingredients
1 medium-sized potato
½ tablespoon butter
1 pinch salt
1 pinch black pepper
1 tablespoon cow's milk
Method
In a saucepan, add some water and boil the potato in it. When the potato is fully done, then take it out from the water and peel it off. Cut the potato into small chunks and add all the remaining ingredients in it, except butter. Now mash it with the help of a fork.
Melt the butter in a saucepan and add the potato puree in it. Simmer it for a few minutes and then pour it in the serving bowl.
Marconi And Cheese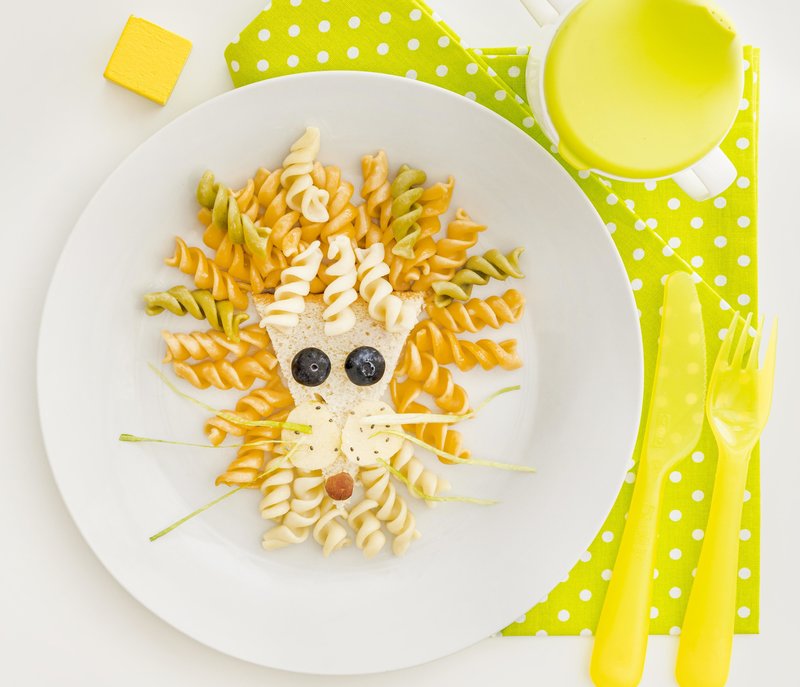 Recipe Box
This is the yummiest baby food and helps in gaining weight as well. Macroni is a good source of fiber, minerals, carbohydrates, proteins, and vitamins.
The other main ingredient cheese is enriched with calcium, vitamins, proteins, and vitamins like vitamin D and B12.
Ingredients
1/4th cup macroni
1 tablespoon butter
1/8th cup shredded cheese
1 pinch salt
1 pinch black pepper
Chopped vegetables of your choice (optional)
Method
In a saucepan, boil the macroni according to the instructions mentioned on the packet. Then, in a saucepan, melt butter and add macroni in it. Add all the seasoning and then topped it with grated cheese. Let the cheese meltdown, and pour this cheese macroni in the serving bowl.
You can also add small chunks of seasonal vegetables in the macroni, to enhance its flavor.
To sum up, babies should be given healthy homemade first foods, free from preservatives and processing, etc.
It makes them healthy and energetic. Also, it develops habits of eating and introduces them to different ingredients.
At the same time its a super easy and fun activity for all the mothers, who want healthy and nutritious food for their babies.
If this article is helpful for you, then let us know in the comment section below.
Subscribe
&

Receive A Free eBook
Responsive innovate grok latte disrupt intuitive actionable insight SpaceTeam grok. Human-centered design Steve Jobs.
We do not spam. You can unsubscribe anytime.