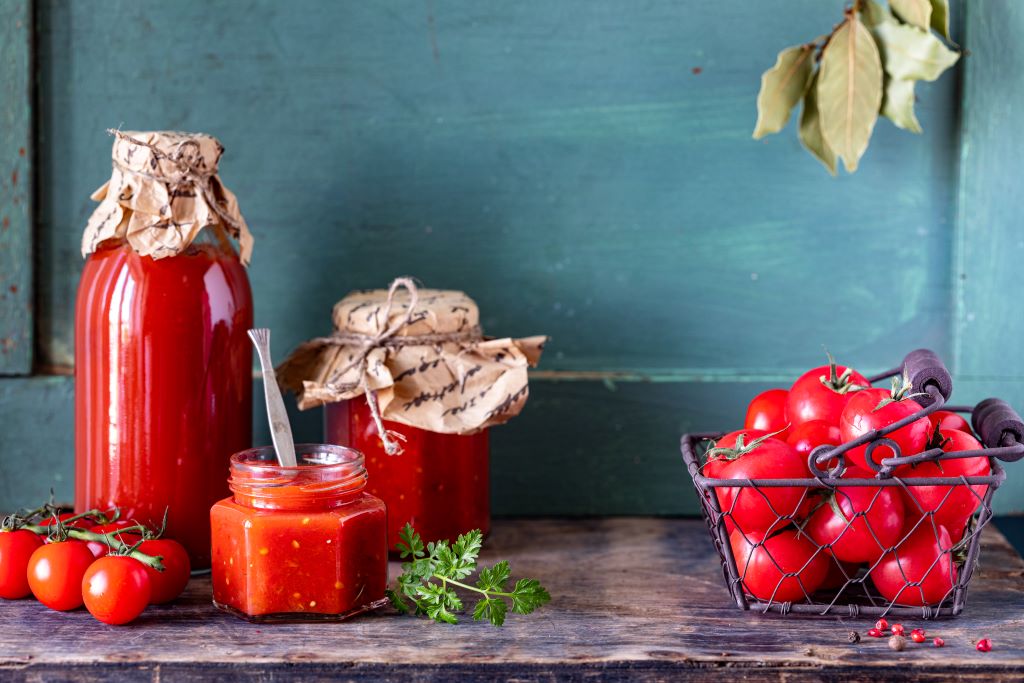 For all the busy moms, this homemade tomato puree is a time-saving solution, especially during daily meal preparation. It is a good option for all those who want to save their cooking time and made cooking an easy task.
In almost all Asian cuisines, red fully ripped tomatoes are used. So, it's better to save these red tomatoes in the form of puree, especially when they are in season and less expensive as well.
Once you made it, it has a longer shelf life. This homemade tomato puree can be stored in the refrigerator for weeks and in the freezer for months.
Of course, it is much tasty and healthier (containing 100% whole fruit) as compared to the market stored canned tomato purees and free from all the preservatives.
How To Make Homemade Tomato Puree?
Now replace chopped and chunky tomato pieces in the curries and, soups, etc with the tomato puree.
Also, it's pretty simple to make homemade tomato puree without any harmful preservatives. Just follow some simple steps given below and made this delicious tomato puree at your home.
Recipe Box
Ingredients
2 kg fresh tomatoes (fully ripped red tomatoes)
½ teaspoon salt
½ teaspoon red chili powder
½ teaspoon brown sugar
½ teaspoon ginger powder
1 tablespoon apple cider vinegar
2 tablespoons cooking oil
1-2 cups filtered water
Directions
For homemade tomato puree, use red, firm, and fully ripped tomatoes. Wash them in the running water to remove any dust and debris.
Remove the core from the tomatoes. Now coarsely chop all the tomatoes.
Transfer these chopped tomatoes into a clean blender, and add some water to it.
Blend it well, until it turns into a smooth paste.
Pour this blended tomato paste into the saucepan and let it boil over medium-high flame for a few minutes.
Then, add all the spices in it and allow it to boil over medium-low flame.
Simmer it until all the water and juices are evaporated and it turns into a thick, and, smooth consistency.
Turn off the flame. Let it cool down.
Shift this cool tomato puree in the Ziploc freezer bags or freezer-proof air-tight containers.
Store it in the refrigerator for a maximum of 10 days and in the freezer for approximately 2 months.
How To Store Homemade Tomato Puree
You can easily store homemade tomato puree without any preservatives. For this purpose, you can store it in air-tight bags or freezer-proof containers. In case of short-term storage, refrigerate it for a week or so. But in the case of long-term storage, you can store it in the freezer for a couple of months or so.
Tips To Remember
Always use red and fully ripped tomato to make tomato puree.

For future use, divide this homemade tomato puree into smaller portions.

Always label the quart Ziploc freezer bags and freezer-proof air-tight containers, to remember the expiry date of puree.

As a natural preservative, you can add some lemon juice or apple cider vinegar while making this tomato puree.

For the thinner puree, use juicy ripped tomatoes. But for thicker purees, use fleshy ones.
Hopefully, you like this homemade tomato puree recipe without any harmful preservatives.
If you like this recipe, then do share it with your friends and family and let us know in the comments section below.
Subscribe
&

Receive A Free eBook
Responsive innovate grok latte disrupt intuitive actionable insight SpaceTeam grok. Human-centered design Steve Jobs.
We do not spam. You can unsubscribe anytime.