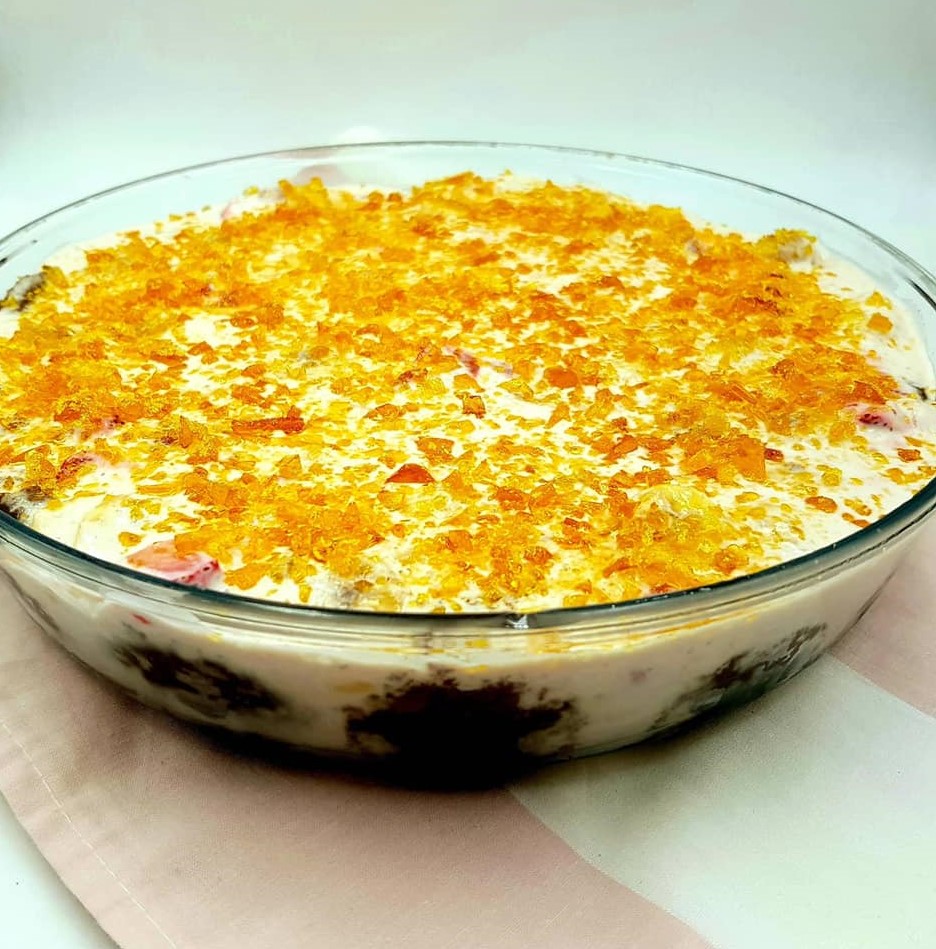 This creamy strawberry banana dessert is one of the best and super easy desserts that I created within a few minutes just before my Ramadan iftar time. And believe me, every family member in my family likes it a lot. Thus, it becomes the king of my iftar table.
So, I thought to share this amazing and delicious dessert recipe with you guys. I hope you guys like it as well and make it for your iftar side dish or Eid dessert or for your summer potluck or as an after-dinner dessert.
Creamy Strawberry Banana Dessert Recipe
These mouth-watering, luscious strawberries and sweet banana combo are perfect for any dessert or side dish.
For ease, I divided this recipe into three steps. Firstly, set up the base with chocolate muffins and soak it slightly with sugar syrup. Secondly, whip up the cream, condense milk and strawberry puree, and fold it with fresh fruits. Thirdly and in the last step, you have to chill this creamy rich dessert and top it up with caramel crunch just before serving.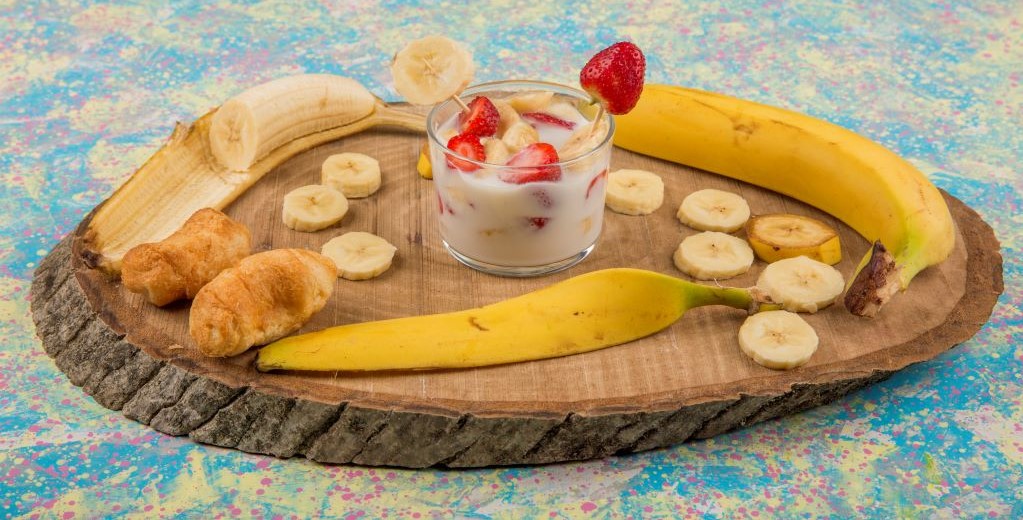 Recipe Box
Ingredients
12 chocolate muffins or ready-made chocolate cupcakes
1 cup water
2 cups brown granulated sugar
600ml dairy cream
3/4th cup condensed milk
3/4th cup strawberry puree
300g fresh ripe strawberries
1 dozen fresh bananas
Directions
Step No. 1
Make a sugar syrup. For this, take a saucepan and pour some water into it. Then, add two tablespoons of brown sugar in it and let it simmer for 3-4 minutes over medium flame.
Setting up the base. For this, take muffins and cut them into 1-inch circular slices. Here, for ease, I choose ready-made chocolate muffins. If you have time to bake, then you can use homemade muffins as well.
Select a glass transparent serving dish with a flat base and spread muffin slices on it.
When the sugar syrup is cooled down, then drizzle it slightly over all the muffin slices.
Let it be there for 5 minutes. So that all the slices soak this sugar syrup.
Step No. 2
Make a creamy sauce. Take a clean, big bowl and pour milk cream into it. Then add condensed milk and strawberry puree with the dairy cream. Mix it properly with the help of a silicone spatula.
Chop the fruits. Now, hull the strawberries and roughly chop them. Also, slice up all the bananas.
Transfer these fresh fruits to the bowl and fold them with the creamy mixture.
Pour this mixture over the muffin slices and spread it all over.
Step No. 3
Chill the dessert. Shift the serving tray to the refrigerator for 7-8 hours for chilling.
Make caramel crunch. To make caramel crunch, add sugar in a saucepan and heat it over low flame. Mix it continuously until all the sugar melts down.
When its color turns goldish brown, turn off the flame, transfer it to a flat non-stick pan, and cool down.
Break it with the help of a kitchen hammer and crush it.
Tips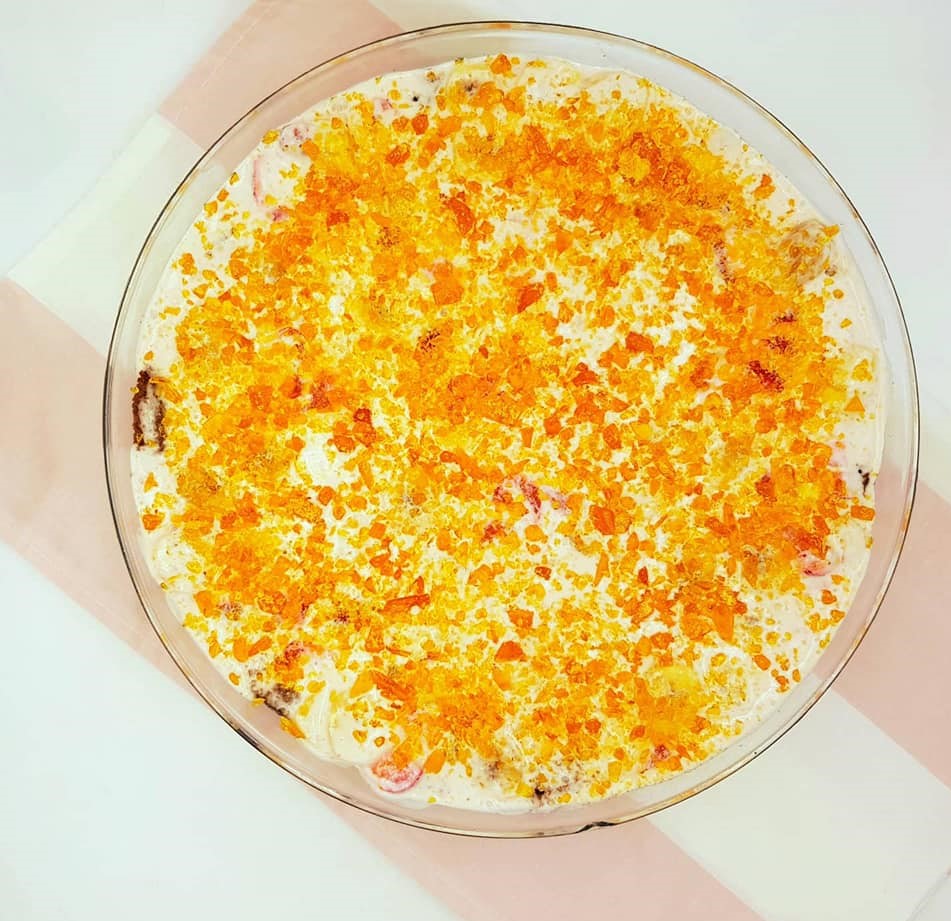 Don't thicken the sugar syrup.

Just drizzle the sugar syrup over muffin slices. Don't over-soaked the slices. As they become soggy when oversoaked.

The ratio of strawberries and bananas should be 2:4. If you add equal quantities of strawberries and bananas to the dessert. Then your dessert becomes tangy due to extra strawberries.

Always top up caramel crunch just before serving your creamy dessert.
In this summer season, try out this delicious dessert made with fresh fruits and enjoy it with your friends and family.
Hope you like this creamy dessert recipe.
Let us know about your experience in the comments section below.
Subscribe
&

Receive A Free eBook
Responsive innovate grok latte disrupt intuitive actionable insight SpaceTeam grok. Human-centered design Steve Jobs.
We do not spam. You can unsubscribe anytime.